Journalism Winners — 2009-10
Advertising - Joyce Park, Palatine (Fremd)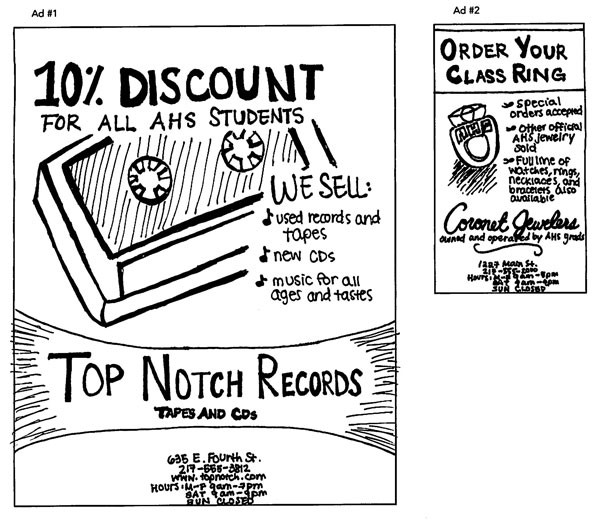 Copy Editing - Emily Van Etten, Naperville (Central)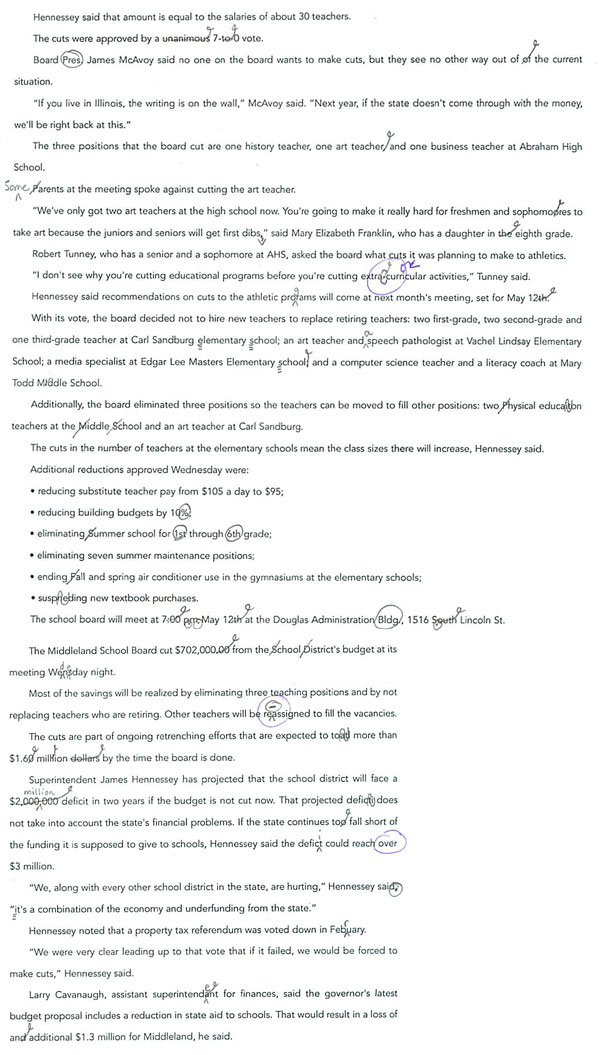 Editorial Cartooning - Katherine Janda, Naperville (Central)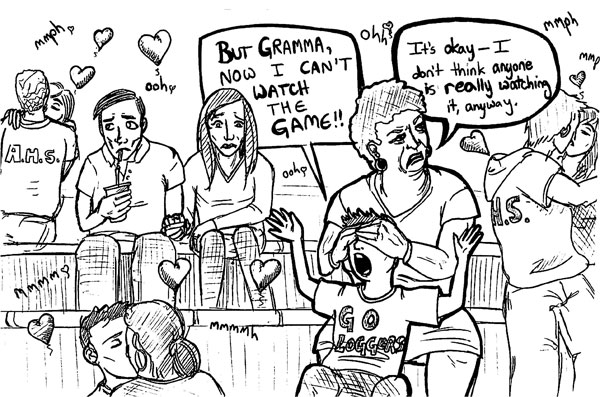 Editorial Writing - Elaine Andell, O'Fallon
In the past few weeks, a silent epidemic has raged throughout Abraham High School. This unpleasant phenomenon has a simple name: public displays of affection, or PDA. Because of its prevalence on campus and numerous complaints from students, teachers, and parents, the administration has proposed a three-step policy against PDA of warnings, detentions, and suspensions.

While some are disgusted with the proposed rules, The Standard has joined the legions of students, faculty, and parents that are appalled with the PDA problem. "Now that we know some people think this is a problem, we are mature enough to stop this on our own," Student Body President Lisa Chavego, a member of the former group said.

"We can restrain ourselves in public places."

Although we believe that some members of the student body can "restrain" themselves, we also think it is important to note that the policy would not have been proposed in the first place if students had proper self control. The massive volume of PDA at school events is testament to the fact that simple self restraint is not enough to solve the PDA dilemma.

On another note, there are greater reasons to implement the anti-PDA policy than simple student disgust.

"What kind of messages are couples who can't control themselves publicly sending to tomorrow's teens?" president of the Booster Club and AHS parent Meghan McCormick asked. As high school students, out duty to be role models for younger students is not optional. Our brothers, sisters, and elementary school students are looking to us for examples of how to act, and tastelessly indulging in PDA is by no means a good example to provide. The new policy may not be pleasant for those used to participating in public displays of affection, but it is important to realize that the policy is not meant to be about us. It's about respecting the people who reap the negative consequences of out behavior, which in this case could be our own younger siblings innocently trying to watch a school football game.

"Within an instant, a student can go from being perceived as a straight A, responsible student to that girl in the fourth period who can't keep her hands off her boyfriend," language arts teacher Mr. Dean Salsberry said, presenting another strong point.

If the backlash toward younger students isn't enough to sway PDA-lovers, the negative effect on one's reputation might persuade them further. Teachers and students alike may think very differently of one's character after catching them behaving inappropriately with their significant other.

We urge students to remember that the teachers forced to break up one's make out session in the hallway may be the same teachers one needs the support of for future college applications or job references. If the new policy is implemented, however, it can protect students from these consequences.

Because of the repercussions on all involved in the matter of public displays of affection, we give our full support to the proponents of the new policy. The three-step proposal of warning, detention, and suspension gives students a strict but fair punishment for breaking the rules and will make school events and hallways a cleaner and more pleasant environment for everyone.

As the school board prepares to vote on the proposal at its next meeting, The Standard urges them to remember that the policy is the best way to protect the reputations of students and those who look to them as role models.
Feature Photography - Bety Camino, Wheeling



Feature Writing - Sarah Walz, Elk Grove Village (E.G.)
From exhilarating winning shots to heartbreaking losses and everything in between, John Twork is there. His voice is there too, sailing out over the radio wire and through computer speakers, broadcasting Eastern Illinois University games to fans.

Twork is an award-winning broadcast journalist, soon to graduate from EIU. In his four years at Eastern, he has broadcast sports from baseball to rugby. He leaves Eastern for Illinois State University, where he will serve a graduate assistantship in the media department and become the play-by-play voice of ISU baseball.

Twork's interest in broadcast journalism began as a child when he received a toy microphone recorder.

"I would love to talk into it and play my voice back," Twork said. "I guess I just loved the sound of my voice."

In junior high school, Twork got more serious about broadcast journalism, especially after a career interview with a man involved in broadcast journalism.

"I realized this is something I would really be interested in," Twork said. "It's been a goal of mine ever since."

Twork became more involved in sports broadcasting in high school when he started a web site to webcast the football and basketball games. Twork then went to Eastern for the journalism program, where he got involved with the radio station WEIU.

"I knew he had some talent. We went from there, " Jeff Owens, FM manager for WEIU said. "We give the students hands-on experience from day one."

Owens attributes Twork's success to his maturity level and good work ethic, something which has rubbed off on the rest of WEIU staff.

"[John] brought maturity. That maturity seeped into the rest of the staff," Owens said. "He's set a high bar for the rest of the staff and the people to come."

Although he has won several awards, one of Twork's proudest moments in broadcast journalism was receiving a letter from his idol, the play-by-play announcer for the Chicago Cubs, Pat Hughes. Twork grew up listening to Hughes and admires Hughes' attention to detail.

"If you turn on the radio during an afternoon Cubs game, it feels like you're sitting in the bleachers," Twork said.

Twork sent Hughes a letter explaining that he wanted to be involved in broadcast journalism. Hughes wrote him back, asking for some of Twork's work and critiqued him. What meant so much to Twork was, "the fact that he took a little bit of time out of his day to talk to me, a little punk kid who wants to get involved in broadcast journalism," Twork said.

After graduating Eastern, Twork plans to get his masters at ISU and hopes to end up right where he started, broadcasting university sports.

For Twork, broadcasting sports is a way of combining his two passions and a way to tell stories.

"The thing I love about journalism is telling a story," Twork said. "In play-by-play, especially in radio, you serve as the eyes of the audience. I love the challenge of painting a picture with words."
Headline Writing - Jake Trotta, Barrington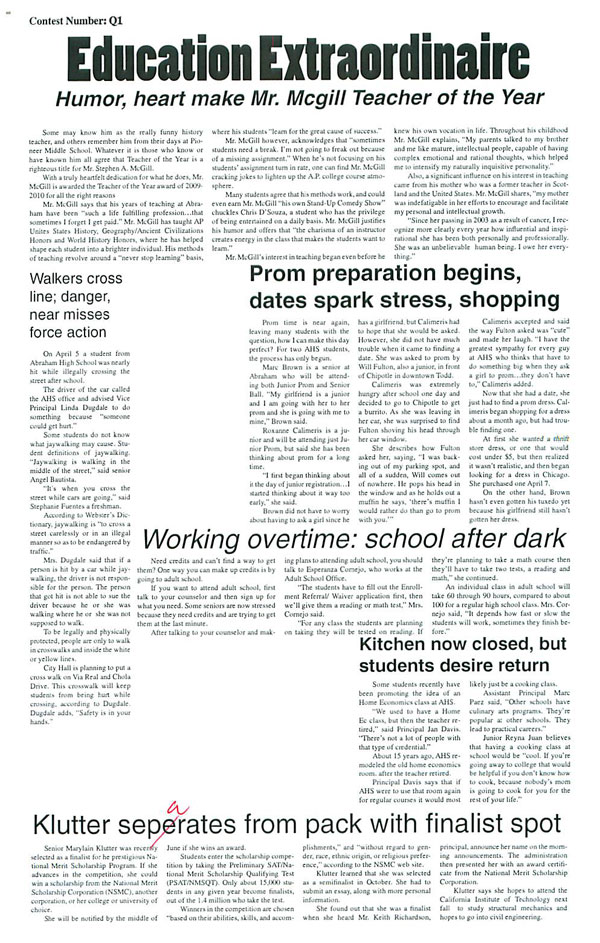 Info Graphics - Jimmy Hibsch, Rollin Meadows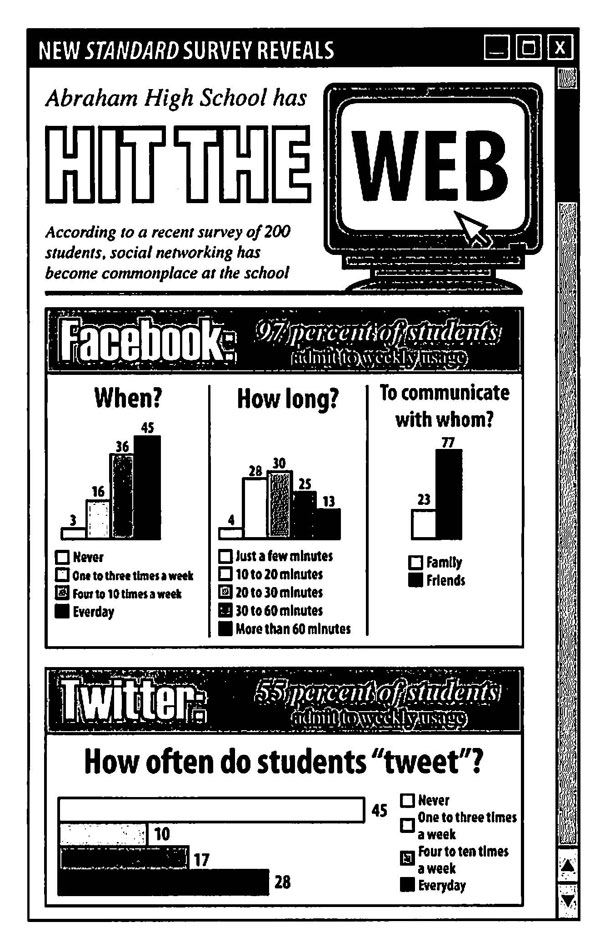 News Writing - Safiya Merchant, Chicago (Lane)
Although the 2010 Haiti earthquake may not be included in today's newscasts, Eastern Illinois University's Haiti Connection, an organization dedicated to providing financial and personal assistance to Haiti, knows that the suffering of Haiti is ongoing.

Haiti Connection, whose members have been traveling to Haiti since 1989, sponsors multiple humanitarian efforts to aid the country. Some of these efforts include their annual 5K run/walk that gives 80 percent of donations to projects in Haiti, a child-sponsorship program, the construction of grain grinders and water filtration systems, and the establishment of a branch office of Haiti's Fonkoze bank in Fon Veret.

According to Joe Astrouski, an Eastern Illinois Journalism major and an EIU Haiti connection member since 2007, the organization attracts students from all university disciplines.

". . . People who are brought together by their concern for a country who is only a few miles away from the United States but experiences poverty [that] hinders people to live out their dreams and [takes away] their sense of security and well-being," Astrouski said.

Besides raising money, Haiti Connection also allows its members to take trips to Haiti to forge personal relationships with its people. For Tony Curcuru, an Eastern Illinois Foreign Languages major, this trip was life-changing.

"I went to Haiti at the end of December [2009]. Before I went to Haiti, I had no specific emotion. I wasn't excited, scared, or nervous. But when we were flying over the mountains of Haiti, I looked down and everything looked dead. I saw all the slums in Port-au-Prince. It really struck me," said Curcuru. "It definitely opened my eyes. I counted my lucky stars for not being there and for my life in America.

After the 7.0 Mw earthquake struck Haiti January 12, 2010, both Astrouski and Curcuru admit that both Haiti and Haiti Connection received more attention than ever before.

"Before I went to Haiti, you never saw Haiti on the news. Then you saw it everywhere. It's good to see people becoming aware. Too bad it took an earthquake to make that happen," said Curcuru.

"In the wake of this earthquake, people have poured out so much generosity on us," said Astrouski.

Despite the hard work and time that goes towards volunteering for Haiti Connection, many say that their efforts have taught them how to live life for others instead of for themselves.

"When you're in college or high school, you get a lot of talk about professional development, said Astrouski. Spending time with people with precious little to their name puts things in perspective. We feel a sense of connection with the people there [in Haiti], with the places there, with the issues there."

For those who wish to assist Haiti Connection in their mission, call 217-348-0188 or email the organization at haiticonnection@gmail.com for upcoming events and more information about possible donations.
Newspaper Design - Sam Bernard, Galena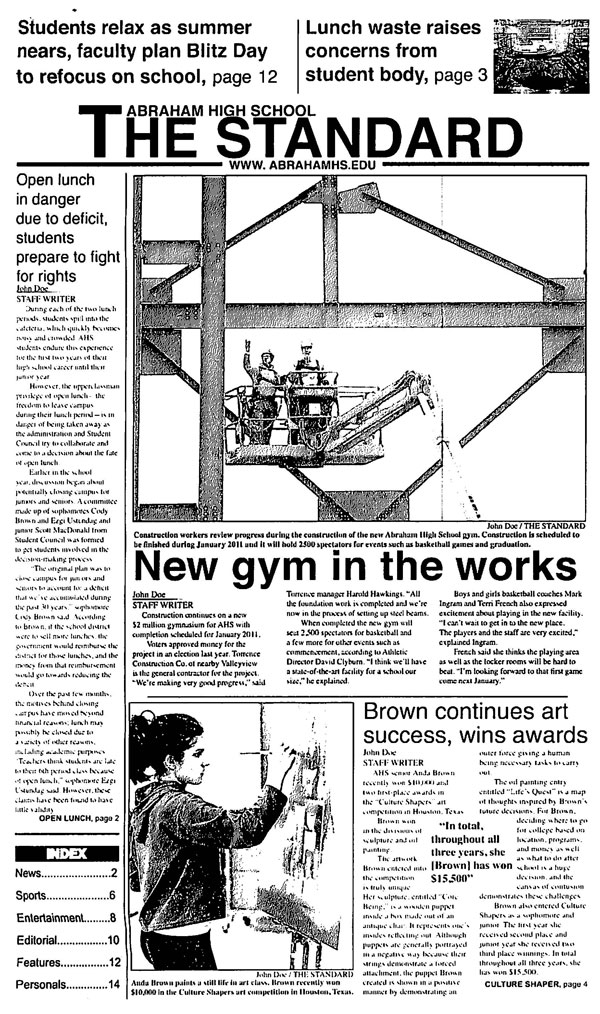 Sports Writing - Chris Yoder, Urbana (University)
Despite a strong performance on the mound by Thomas Hardin, Abraham made too many mistakes to win Thursday, falling short in a 3-2 loss to Stephen in the regular season finale with the conference championship on the line.

Hardin (8-4) allowed two earned runs in six innings of work, striking out five and walking none. But his counterpart Dave Razo (7-1) was even better, as he didn't allow any extra base hits or walks in a complete game, giving up just one earned run.

"This is a tough loss to take because it was a close one," said Hardin. "In a low scoring game every hit counts."

Stephen (33-6) took the early lead on poor defense by the Loggers. After singling and advancing to third on an error by IB Taylor Hicks, SS Jeff Parr scored on a passed ball.

Parr was up to it again in the third inning. After a single, Parr stole second and advanced to third on an error by catcher John Gill. Razo then laid down a suicide squeeze, scoring Parr and giving Stephen a 3-1 lead.

Hardin settled down after that, as he retired 11 of the next 13 batters. Besides Parr, only three Stephen batters reached base.

Abraham's first run came in the second inning on an RBI single by DH Larry Hale, scoring LF Alan McConnell. Yet despite 2 hits and two errors in the inning, that was the inning's only scoring.

Abraham also had a golden opportunity in the sixth inning. After two singles and a hit batter, the bases were loaded with no one out. But 3B Bryan Kellerman grounded into a double play on the first pitch, scoring SS Charles Cassity. 2B Tyler Woodside, who had singled in his last two at-bats, struck out to end the inning.

Razo pitched a 1-2-3 seventh to preserve the win and the conference title.

"I have to admit, this is a heartbreaker," said Abraham coach Rick Metzroth. "We wanted this bad, but we cannot let it affect our performance at regionals."

With the loss, Abraham ends the regular season at 29-8. But the two teams could meet again during regionals later this month.

"My guess," said Stephen coach Manny Fernando, "is we'll see Abraham again."
Review Writing - Katy Melcalf, Urbana (University)
Little Boy Jr. looks awkward set up against the white brick backdrop of the amphitheatre, and they know it. Pulling at sunglasses in the cloudy half-light, they scuff the toes of already scarred leather shoes and frown up into the crowd gathered on the grassy hill. Huddled tight to their amps, they talk and tune with nervous fingers.

But all of that fades, however, as Joe Courtney sets his fingers to the strings for their first number, the heavy and throbbing "Appliances." The crowd smiles, laughs, and cheers, already in love.

Charleston-based Little Boy Jr. is made up of guitarists and vocalists Joe Courtney and Dan Lazzarotto, bassist Bob Schroeder, keyboardist Matt Caponera, and drummer Phil Riley. Though born in 2008, their musical influence draws heavily on '90s post-punk and '70s radio static to give them a retro, throw-back, and thoroughly unique vibe.

After only a moment to boost the mike, Little Boy Jr. falls into their second song with ease, the creeping Latin-driven "Baby Clothes" that comes together like some strange mixture of Sentena and Seattle sound, a masterpiece by any standard.

An immediate segue into "Step Behind" seems obvious at first, but with a dramatically different keyboard vibe defined by '60s swinging piano and hissing high-hat, it sticks out from the rest of the set unusually. Lazacotte and Courtney help to bring it in with an angelic layered vocal melody, high and sweet, but Riley turns his face to the sky in seeming despair, his eyes momentarily hidden from view by the opaque reflection of the clouds on his glasses.

But buy the time it shivers to a stop, feeling by piano and falling revells, everyone is smiling again and happy for the encore, a melancholy jam-session with the sweet refrain of "I want you to stay." I want to shout it back to them, this is an act too good to end.

The set closes with a crash and a final smile, haloed now by cigarette smoke and emerging sunlight to paint them as ostent hipsters with ineffable grins.

To hear them for yourself, stop by the Midland Coffee House this Friday around 8:30. I promise you won't be disappointed.
Yearbook Copy Writing - Keelan Murphy, Mt. Prospect (Prospect)
Long after he graduates, senior Vince Kroell's legacy as student council president will live on at Abraham High School.

The new clock tower, purchased by student council, will forever be a reminder of the hardships the student council executive board experienced throughout the 2009-2010 school year.

But, like the clock tower itself, it will also serve as a reminder that during times of adversity, the student council executive board kept ticking.
The board's first struggle came with the first day of school back in August when their longtime adviser, Megan McChessey, broke her leg and announced she would be out fo school for 6 weeks.

Fortunately for the Abraham student body, the executive board attended a summer leadership camp at the University of Illinois. "The student council took everything they learned at camp about working together and getting the job done . . . and they did both," McChessey said.

With his newly acquired skills, Kroell took the lead and, through weekly meetings, the executive board was able to successfully plan and run homecoming events, fall festival, graduation and organize committees.

"What these kids did this year was phenomenal," Principal Rodger Lambert said.

However, not all events went as smoothly as planned. While it —quite literally—rained on the homecoming parade and a blizzard interrupted the winter dance, the board managed to make the events fun for students, despite unfortunate circumstances.

The executive board also instituted a new security program this year called "the protectors". The goal is to ensure student's safety as they walk to their cars after late night activities.

And with the new sophomore parking lot the student council board convinced the administration to pave, this program is sure to be a hit.
Fundraising was another hurdle the board had to conquer this year. And with their impressive new techniques they learned at summer camp, treasurer senior Jonathan Wilcox assures that "we left the next council with a nice nest egg."

French teacher, Sally LaCere, who substituted for McChessey, enjoyed working with such a determined executive board this year.
"They were leaders in every sense of the word," LaCere said.

Through Kroell's leadership, the student council transformed what could have been a rotten year into a year filled with fresh ideas, new programs and in Lambert's own words, "solid" leadership.

"We came together and met all kinds of adversity, "Kroell said. "And look what we accomplished."
Yearbook Layout - Najah Bhatty, Glenview (Glenbrook South)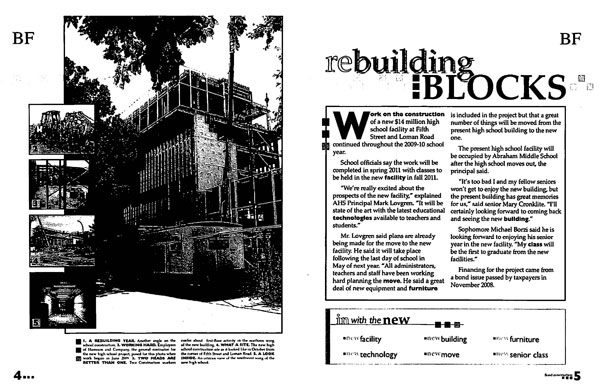 Yearbook Theme Development - Bridget Miller and Kate Ryan, Wilmette (Loyola Academy)