Journalism Winners — 2007-08
Advertising - Amy Lewin, Glenview (Glenbrook South)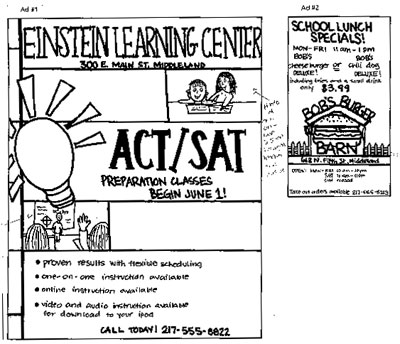 Copy Editing - Amber Bell, Rockford (Jefferson)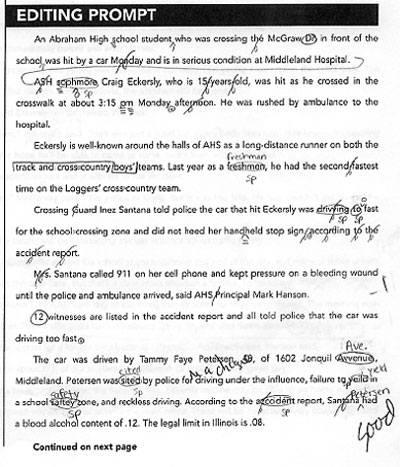 Editorial Cartooning - Elle Opitz, Oak Lawn (Community)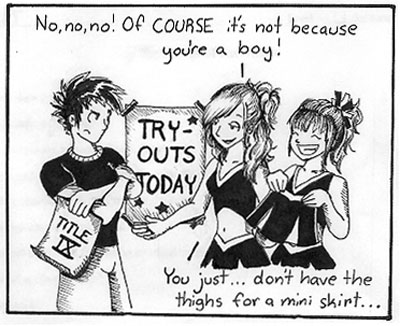 Editorial Writing - Annie Pittman, Herrin (H.S.)
In 2008, the issue of gender equality has progressed considerably in the U.S. since the movements beginning in the 1960's. Today a woman is the Secretary of State, the Speaker is the House, and a potential president. A man can stay at home and raise his children.

Why then, does his issue still surface in a place where the sanctity of equality should thrive, an educational institution? Young men and young women should be given the same opportunities at AHS and all schools in the U.S.

A recent eruption has occurred at AHS over gender discrimination, because some male and female students have shown interest in athletic activities which have been previously limited to the opposite sex.

Sophomores Jason Waterford, Chet Manson, Hank Waters, and Bobby Patton want to join the cheerleading squad. Junior Janice Russel wants to join the football team as a kicker. Denying these students the right to tryout for and participate in these sports is not only unfair, but unconstitutional.

The Title IX education amendment was passed in 1972 to level the playing field for boys and girls at school in both athletic and academic programs.

The Title IX states that " no person shall, on the basis of sex, be excluded from participation in, be denied the benefits of, be treated differently from another person or otherwise discriminated against in any interscholastic, intercollegiate club or intramural program." In the early 1970's, AHS added four girls sports to the previously all male athletic program. It has since added several more female sports such as basketball, swimming, tennis, soccer, track, lacrosse, and badminton.

Waterford, Manson, Water, and Patton have competed in gymnastics in Middleland since the fourth grade. They want to join the AHS Cheerleading squad, because AHS lacks a gymnastics team.

Russel is once of AHS's finest soccer players who has been an All-Distrcit selection for three years and plans to play soccer in college. She wants to bring kicking power to the football team, which is weak in kicking positions. She feels the pressure of kicking field goals would help her prepare for college level soccer. Emotions of the current cheerleaders and football players are mixed, though football head coach Marvin Pinchella says he would welcome Russell onto the team if she has a successful tryout.

The school board will make the final decision in two weeks under the advisement of athletic director, Jason Wanters.

The decisions has been legally made, though. It AHS does not allow these students to join the cheerleading squad and football team, it will be a violation of American principals and public policy.

The cheerleading squad began in 1915 and has remained all girl since then. Nearly a hundred years have passed since 1915 and in those hundred years millions of changes have taken place in the U.S. Although discrimination on the basis of gender was tolerated and commonplace then, it is not now.

Perhaps if the school board members can envision their sons and daughters being denied the chance to do something they have a gift for, they will be able to understand the importance of Title IX and the loft of their decision.

Perhaps if AHS cheerleaders and football players can imagine themselves in the positions of Waterford, Manson, Waters, Patton, and Russell, they will become more accepting and welcome to new teammates. Equality and education thrive on progress, on constant improvement which moves us toward a better, and brighter future.

AHS has made great progress since the passing of Title IX, and it must continue to do so now. Title IX signifies the beginning of gender equality educational reforms, not an end. It is that very infinity that makes progress so remarkable. It is the opinion of The Standard staff that no AHS student should be discriminated against if not because it is legally wrong, then because it is also morally wrong. It is neither Loggers, or American Spirit.
Feature Photography - Elliott Koehl, O'Fallon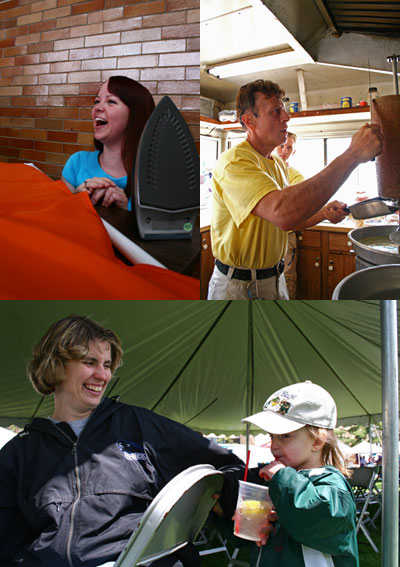 Feature Writing - Emily Welborn, Harrisburg
Japanese student Marina Aikawa pushes through the language barrier to excel in the arts.

Aikawa is currently an English as a Second Language, or ESL, student at Abraham High school in Middleland, Illinois. Aikawa was 13 years old when she first came to the United States with her father, who relocated for his job.

When Aikawa first came to the U.S. she spoke little English, but through the ESL program her language skills have improved.

"Her English has gotten better. And I can speak a few words of Japanese," junior Matt Armbruster said.

The truly amazing part of Aikawa's story, however, is not her ability to learn and use English as a second language, but her drive and talent that enable her to succeed in her musical endeavors.

Aikawa began playing the violin when she was only four years old, while still living in Japan. When she first moved to the U.S. Aikawa was surprised to see that emphasis on musical curriculum that her school offered.

"I didn't take violin lessons in Japan because there weren't any classes. When I came to the United States I was surprised to see so many classes for orchestra and band." Aikawa said.

Aikawa does not isolate herself with her music but allows her skills to open a door to new activities and ways to be involved.

Aikawa's ESL teacher Mary Rizzo agrees that Aikawa's skill has provided her with a great opportunity to improve her English.

"It's great when ESL students participate in other activities, because they get to practice their English speaking skills," Rizzo said.

One activity Aikawa has been able to be involved with is the Abraham High School string quartet. As a member of the quartet, Aikawa along with fellow member Armbruster, is able to play at several functions, such as school ceremonies and even weddings.

"Wee (I and Matt) play if there is a ceremony or wedding. In April of June we played a canon for a wedding," Aikawa said.

Aikawa also serves as a concert master for both her school and for the American Youth Philharmonic Orchestra. As the concert master Aikawa is responsible for leading the first violin section in the orchestra and can also be the assistant to the conductor, a positions that requires hours of practicing and a strong focus on studying music.

"The concert master is hard work. I usually practice four or five hours a day," Aikawa said

Aikawa dedicates much of her time to her music and makes it clear that this is more than just a high school hobby.

"My goal is to increase my skills in violin. I want to take this professionally because I like music and just playing the violin," Aikawa said.

Among all of the many contacts Aikawa has made since she first came the United States, one common theme seems to abound. Although Aikawa is of different ethnicity and speaks a different language then that of her teachers, students and fellow orchestra members, she never lets that barrier come in the way of pursuing her passion.

"I feel as if I have learned a lot from Marina and her parents. I can even speak a little Japanese myself. But we try not to let the language barriers get in the way of great music, and she plays beautifully," string teacher, Celeste Wiskum said.

Aikawa continues to improve her English through the ESL program at Abraham High, but she still dedicates and will dedicate the majority of her time to her love of the violin and of music.

"Thing thing about playing an instrument is that language of the music is universal," Armbruster said.
Headline Writing - Kurt Fowler, Wiliamsville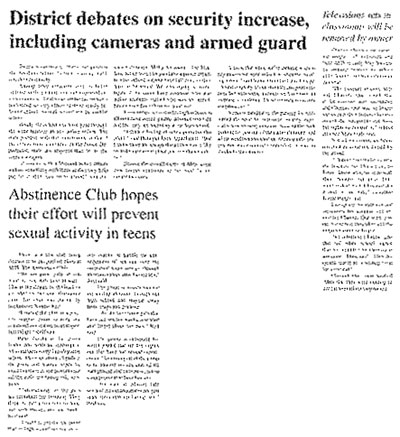 Newspaper Design - Mike Anderson, Glenview (Glenbrook South)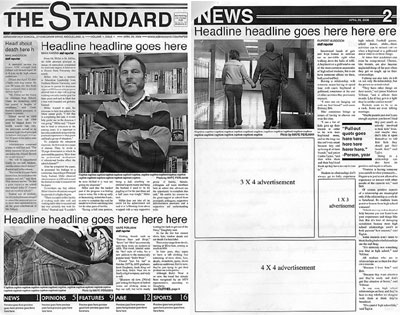 News Writing - Jessica Petrie, Belleville (West)
Delegates from both Iran and the United States were tense as the live debate in the United States Security Council raged on. These student delegates have an important decisions on their hands as they watch the debate on a computer screen- should the United States bomb Iran's nuclear sites?

Few students get a chance to debate such global issues, but at the Model United Nations conference at the University of Illinois, AHS students had an opportunity to hone their diplomatic skills.

"It's a great experience that prepares you for real situations where you might have to present a position in a formal and serious setting," junior Laura Hiller said.

Thirty-five students from Abraham High School attended the 27th annual conference.

At the Model UN conference, students debated global political and economic policy. They also proposed resolutions to their cabinet in the interest of the country they represented.

"I got to debate on Islamo Phobia and the problems in Thailand with the Malay Muslims, "junior delegate Jennifer Mahal said.

Students used a variety of tactics to determine the best course of action for their nation. Some of these methods were unconventional.

To decide whether or not to bomb Iran, delegates "eavesdropped on negations between Iran and the U.S." Using live audio and video streaming, senior delegate in the Jefferson Committee on Diplomacy Laurie Singerman said. Debating these issues was difficult for students; they were often in committee, or debating in their cabinets, from 10am to 10pm.

Despite this, students from AHS performed exceptionally well. Singerman won outstanding Delegate in an advanced committee of 16. This is the same receiving second place.

Two other AHS participants were seniors Alise Marales, and Val McDonald.

AHS students also had a chance to learn from political experts.

At the opening ceremony, delegates heard from " David Kay, a weapons inspector who went to Iraq and informed the administration that there were no nuclear weapons," AHS model UN cosponsor Tanya Insanally said.

The model UN club has grown larger over the years as students gain more interest in global affairs.

In the ten years that history teach Tim Bostaph has sponsored the AHS model UN, the organization has grown from four members to fifty.

Although the conference was difficult, student delegates enjoyed the competition. In fact, many thought it was the best model UN event in years.

"It was an incredible experience, and I would go back next year in a heartbeat," Mahal said.
Review Writing - Kiley Rosnes, LaSalle (L.-Peru)
The friendly, twanging introduction of a song has never disappointed more than the false start of Elsinore's pleading love song, "Cannonball." Someone grab the tissues, because this Charleston, IL based band is cold tonight. By golly wouldn't you know it, the singer's heart turned colors on you too. Elsinore may be "shooting cannonballs into the night," but the only target they hit is disturbance. The questionable compositions of these cannonballs (the entirety of the lyrics as well) raises an eyebrow, especially following the dubious unanswered request to "hold me tight."

Many bands suffering from weak lyricism are able to obscure this flaw behind an encompassing musical setting. Elsinore fails at both overcompensating and writing. In a band where two of four members hold degrees in music composition it would seem that this cover up is an easy task to accomplish. Not so much.

Though the band boasts a folk rock bravado veterans of listening to the genre should weep at this painful arrangement.

Elsinore's sound lacks the drawing capacity of a proper "folksy" act. The music attempts to draw listeners to a dream like ecstasy, but instead the only thing holding listener's captive is the excruciating length of each songs awkwardness.

An embarrassing level of vulnerability is present in the lyrics, and often song titles. "Hearts and Sleeves" for example. This sometimes works for other bands, but not in this case. In merely every line, utter dependence prevails in the lyrics.

It's enough to procure apologies for stumbling into the show. Elsinore is distraught and heart stricken, yet fans should be apologizing.

Perhaps it's the deception in the initial folksy guitar. "Oh! This sounds happy! And fun! "And...oh. I'm sorry, I didn't mean to intrude on your...here, have a cookie. You'll feel better." Seems to be the appropriate audience response. The band members like a variety of musical interests and tastes. The playlist ranges from "rock to bluegrass to metal to alt-country to folk to classical to latin and back again."

If this spectrum doubles as a list of influences, it doesn't show successfully in the performance. All that is visible through the music is four heartbroken, apologize a little boys hiding behind a world of eccentric stage baubles and the acoustic guitar sound of failed flower child.

The overall sound is an "earsore" that creates an unfortunate combination of legitimately respectable, if individual genres.

Elsinore is indeed shooting cannonballs. If only they'd never hit.
Sports Writing - Chris Yoder, Urbana (University)
It wasn't the regular season, but the Abraham Loggers played like it was.

In the ninth annual TW Key Shoot Out from November 17-19, the girls team made history, be becoming the first team to go undefeated in tournament play. This was the first year Abraham won the tournament.

12 teams took part in the tournament and from both the boys and girls sides. While the Abraham boys took the bronze in their tournament, the golden girl's teams enjoyed their competition.

"I liked seeing what the other teams are bringing this season," said junior defensive player Christina Nugent. (Pealoody High School) was good surprisingly. They were really aggressive; it was unexpected. Grant High School was also really good (even though) we didn't play them.

"We usually don't play a lot of these teams since those are a lot of private schools," said junior cover-point Michelle Newman.

"But we got a lot of experience out of playing in this tournament." All participants in the tournament were juniors or seniors. All Abraham seniors who signed up made the team automatically, but that didn't mean the end result was effortless.

"We are going to have to work hard," said senior mid-fielder Ashley Kimener. " we cant assume we're going to get another title; we (will have ) to work for it."

Maybe the girls team made history by playing with a history making team. University of Illinois head coach A.J. Stevens and seven of his played gave a free clinic Saturday morning for about 25 interested shoot out participants, Illinois has made the Great Rivers Lacrosse Championship Game five years in a row. The past two years, the second time GLRC coach of the year led the Illini to back-to-back top 25 rankings, featuring five academic All-Americans in 2004. Yet neither that nor the championship was the highlight of the tournament.

"The best thing about the (tournament) was bonding with the team and getting a chance to play before the season starts." Said Newman.

With tryouts on February 25 is the tournament an omen for the regular season?

"Hopefully," said Nugent," "it means something good."
Yearbook Copy Writing - Neha Awati, Palatine (Fremd)
At Abraham high school, student athletes started their clocks sooner as they jump started a fall sports season.

Athletes began training over the summer to shape up before the season kicked in.

"Championships are won out of season, not in season," said Phil Lavine, activities director at Abraham. "We want (student athletes) to be doing something year round."

Off-season training is neither official nor mandatory, but cross-country, wrestling, and basketball teams now meet as a group to get an edge over the competition.

"Off-season training is like hanging out with your extended family," said senior runner Connor Henne, who works out with his cross country teammates for two hours atleast 3 days a week." "You don't like it, but you gotta do it- but you love the end results."

Although Illinois high school League rules forbid coaches from teaching specific skills pertaining to their sports in the off-season, wrestling coach Jim Gluck believes general weight training also boosted overall performance.

"The kids made huge jumps in their strength." Gluck said.

"We had kids who couldn't do a handstand push up, but after about a month to 6 weeks, they were doing 15 of them."

The wrestling team trains at a mat club in the fall quarter and strength training in the spring. But junior wrestler Jim Broadway said the extra workouts helped off the mats as well.

"I get such a high after my workout," Broadway said. "I have so much energy when I come home that I can do my homework a lot better."

Gluck agrees that extra practices help with time management.

"I think in general athlete's grades are better when they're in season because they are forced to budget with time."

Yet for the girl's basketball team, the off-season is not for building up extra muscle managing time, or motivating in the classroom but rather learning to play without key player Jasmine Thomas, who is out this season with an injury. Whatever the reason, athletes and coaches feel that off-season practice is beneficial to teams.

"It is necessary to do a lot in the off-season to keep the skills you developed during the season," Kortan said. "Not only do I feel pressure from coaches, but players too. You see your competition, and if they are doing a lot it always motivates you to do something more."
Yearbook Layout - Akshali Gandhi, Naperville (North)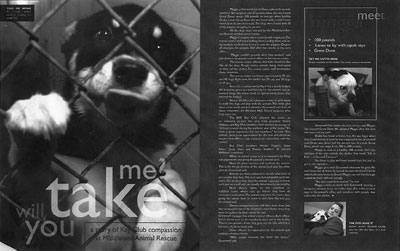 Yearbook Theme Development - Stephanie Calabrese & Nicole Thompson, Palatine (Fremd)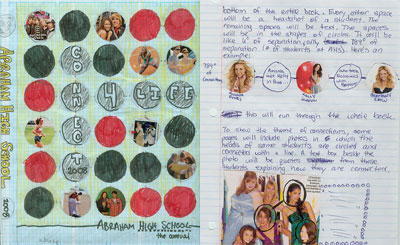 Cover: To incorporate the theme " connections" the cover will look like a connect four game. The game outline will be yellow and the rest of the cover will be white litho. The game pieces will be red and black color circles or picture. The words "connect 4 life" will be the black shiny litho because they will be on the title page. ( it will be a die cut" the spine will have writing in yellow outlined in black. The school name on the cover will be on black. The circles under the school name will be black. The spine letters will be debussed.

Title Page: It will continue the cover theme. The words "connect 4 life" will be black shiny litho. The colored circles will be black and 50% obauty black. The school info will take up part of the game board. The photo will be in black and white. The circles under the school name will also be continued.

The rest of the book: The sideways T shape (example) will be an element we will carry out throughout the book. For example, the titles on pages will feature a heading above the horizontal and a subheading below (example). The heading will be in caps and subheading in lowercase. To show connections amongst the students, we will show how every student is connected, we will include a sidebar running along the...