Journalism Winners — 2008-09
Advertising - Ruth Tam, Rolling Meadows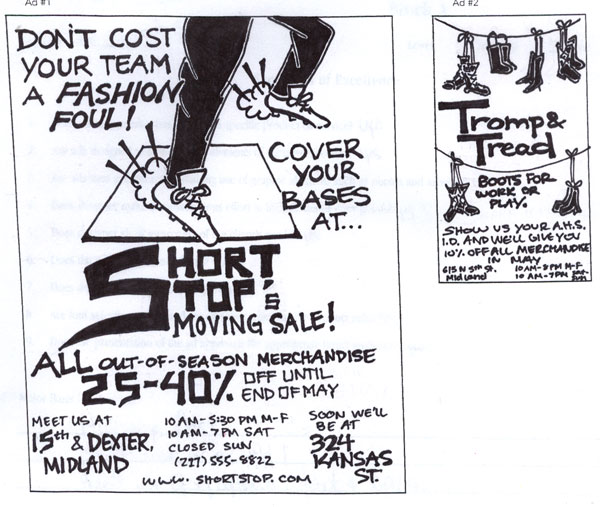 Copy Editing - Margaux Henquinet, Mt Propect (Prospect)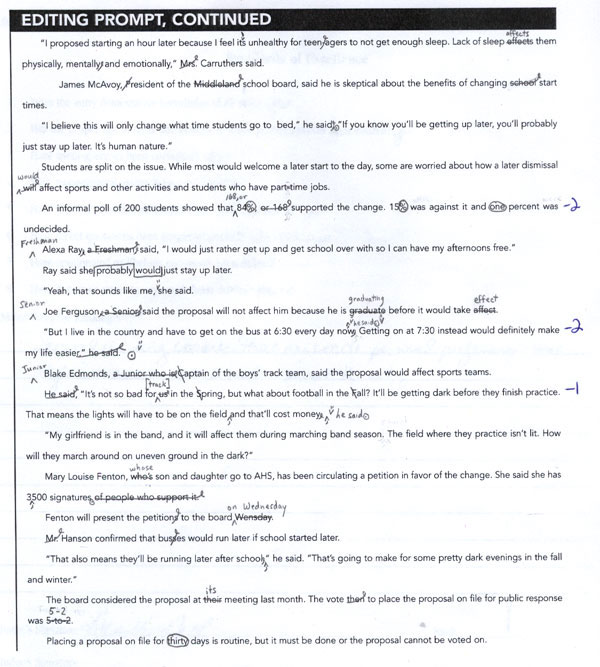 Editorial Cartooning - Sydney Maples, Edwardsville (H.S.)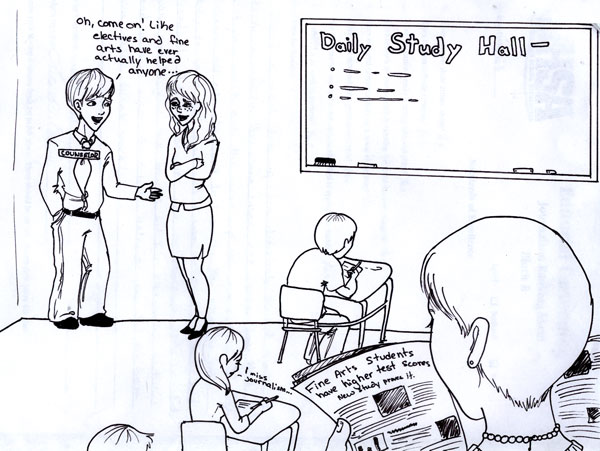 Editorial Writing - Mitch Armentrout, Burbank (Reavis)
In light of two consecutive years of downward trend in test scores and grade point averages, perhaps Abraham High School administration members could use some math tutoring of their own. The situation we find ourselves in calls for addition- not subtraction.

Principal Janice Russell's proposal to add a daily study hall period to Abraham students schedules is simply too passive on attempt to boost educational performance. To maintain any growth in our students, our administration needs a more hands-on approach. By utilizing a class period devoted to test-taking strategy and preparation, in addition to an optional after-school study period, the administration will help foster the cognitive abilities of our students, bringing tangible improvement to our test scores and report cards across the board.

Though Ms. Russell correctly asserts a daily study hall could "behoove the students," the fact is most students simply are not motivated to take advantage of a daily study hall. Instead of a comprehensive course, some students will be pleased to have a free "blow-off" class added to their schedules. Others will feel stagnant, whit one-seventh of their class day consumed by "quiet study time." Despite the fact that this study period could benefit motivated students, too many others will either waste time or feel their time is being wasted.

As an optional academic mastery period, students who actively seek help after school will see great improvement in their grades. By requiring faculty to stay after seventh period for an extra twenty five minutes, students can get the help they need, or simply some quiet time they can't find at home for studying. If needed, teachers could mandate those after-school periods for troublesome students. We can provide one-on-one time between students and teachers without the distraction of unmotivated students.

Still, as a whole the student body needs guidance and direction in terms of test-taking. With standardizing testing taking on an ever increasing role in student evaluation, education about approaching these tests becomes necessary. Instead of leaving students on their own to study or stagnate, we can utilize our teachers in developing a class period devoted to testing strategy and studying techniques. With a focus on ACT or SAT type questions, students will learn how to approach specific questions, while also enhancing their other subjects by working with them reading, English, math, science, and writing portions these tests center on. In theory, Russell's proposed study hall could possibly evoke improvement in these areas; however, her passive study method cannot afford direct teaching and guidance of Abraham's outstanding instructional staff.

Abraham High School's function is to serve as a center for educational growth, developing our students into responsible members of society. It's important to remember our scores have been down for just two years; perhaps it's just a small fluctuation in our academic performance. Still, the administration's responsibility is to right the student ship, to actively try to improve our performance. Simply adding what essentially is an extended homeroom may not be enough to foster growth. By actively instructing our pupils while simultaneously offering additional academic assistance will show the results we're looking for, without sacrificing valuable class time.

It all adds up.
Feature Photography - Grant Westhoff, Edwardsville (H.S.)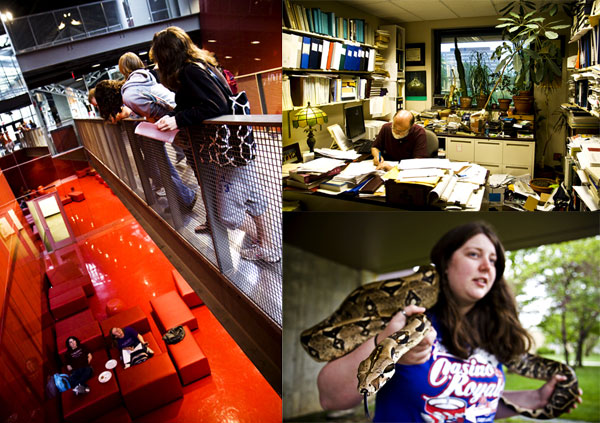 Feature Writing - Emily Siner, Flossmoor (Homewood-F.)
Allison Glancy has a passion for giving back. As a freshman at Eastern Illinois University, she is a member of the service sorority Epsilon Sigma Alpha (ESA), which donates money to both local and out-of-state organizations and requires 25 hours of community service per semester from each sister. Glancy tutors local children every day at the Newman Catholic Center, in addition to volunteering regularly at special events on campus.

For many busy college students, her passion may seem unobtainable. But at Eastern, Glancy is becoming an example, not an exception.

"That spirit to serve is thriving in our campus," Rachel Z. Fisher, interim director of Eastern's student community service (SCS), said.

Although 4,252 out of the 12,000 students on campus reported at total of 48,000 volunteer hours in 2007, Fisher said university president Bill Perry noticed a lack of organization with community service. There was certainly an interest; there was just less of an opportunity.

Thus, SCS was born, two weeks before this school year started, in order to "enhance current opportunities and create new opportunities," Fisher said.

"We take the enthusiasm of the students and find the needs of the community," she said. "We're just a glorified matchmaker."

Fisher is proof that, as she touts, "one person can make a difference." Although she is the only employee for SCS currently, the office has provided over 5,500 hours of service to 775 students this year over 10percent of the total service on campus. Fisher works with organizations such as ESA, as well interested individuals, to help them volunteer.

"One of my main focuses is changing the stereotype of service. When people hear 'community service,' they think of orange jumpsuits," Fisher said. "We want to engage students and show them service can be fun and exciting.

Her ultimate goal for the school is 100,000 hours of service a year, and 80 percent of the student body involved- more than double the numbers for 2007.

To recruit more volunteers, Fisher is planning a service day the Saturday before classes start this August for all interested freshman. She hopes more students starting their college career will see their merits of volunteering and look for opportunities throughout the year.

"It feels good," Fisher said. "Helping others helps yourself."
Headline Writing - Kaitlyn Metzler, Elk Grove Village (E.G.)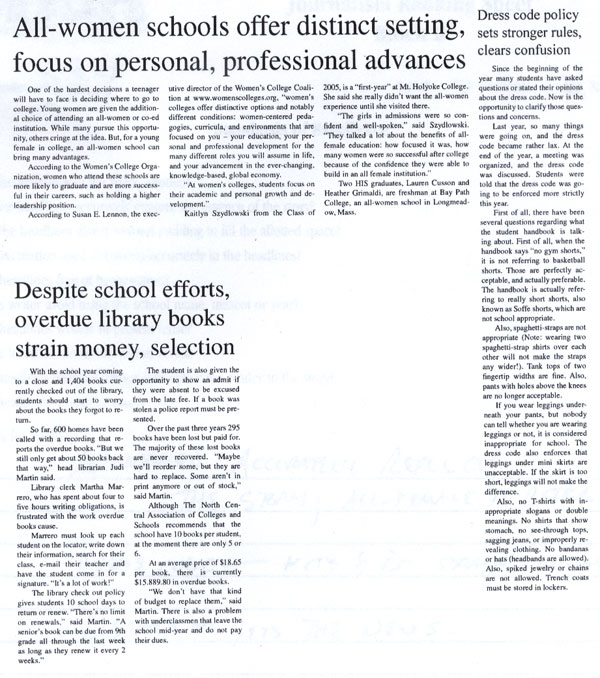 Info Graphics - Kaitlyn Metzler, Elk Grove Village (E.G.)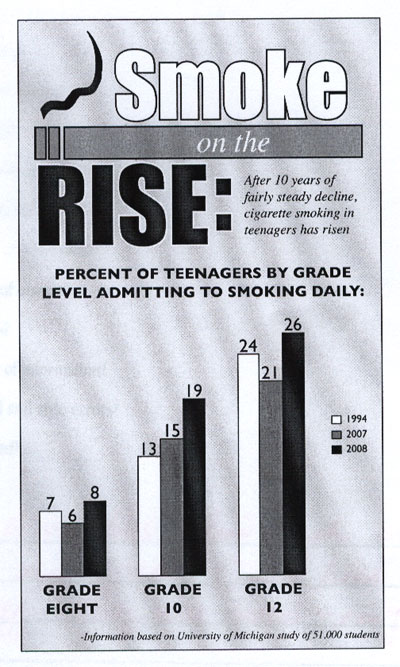 News Writing - Mandy Facer, Urbana (H.S.)
As the economy struggles, many companies and businesses have felt the effects of financial instability across the county. However, the world of college education is still thriving in America. At Eastern Illinois University, application numbers have only fallen slightly in the past year and school officials are optimistic about EIU's future.

"People are realizing that to be competitive, it is imperative to go to college," said Brenda Major, the director of the office of admissions at EIU. As the jobs in America start to disappear, many citizens feel the need to reinvent themselves to become more appealing to future employers.

While going to college may be what it takes to get a good job, many Americans don't have the money to afford it. Because of this, financial aid programs have become increasingly popular and necessary in order to educate citizens.

"Here at Eastern, we stress communication with the students about their individual financial aid possibilities," Major said. Students can apply for financial aid by filling out a FAFSA form to see if they qualify for financial assistance. "Eligibility is based on first come first serve basis and is given to the students who need it most," Major Said.

EIU Junior Basia Price has received financial aid from filling out the FAFSA form to pay for her education. Price also received a MAP grant from the state and a PELL grant from the federal government, " My total tuition for this year at EIU is $320," Price said. Through financial aid, she was able to gain a education for a much lower price than a private university.

Price originally wanted to attend a Historical Black College, for her education, but the cost made her rethink this decision, " I had to make a choice," Price said, " I could go to a (HBC) and put my mother into financial debt, or I could attend an in-state college that would cost thousands of dollars less."

Price chose EIU and is glad she did. "I've absolutely enjoyed the financial aid I've received a great education, maybe even better that a (HBC)," Price said.

While Price had the opportunity to receive financial aid, she also helps pay for her room and board (which costs $750) by having a job. Price works at EIU's office of admissions in addition to her classes. "Many students work at the library, recreation center, resident hall, and local places like Wal-Mart," Price said. Even if EIU students don't receive enough financial aid to completely cover tuition, jobs provide another way to fund their journey to a diploma.

Students here at Abraham High School, might be thinking about applying to EIU for their college education. With the guaranteed tuition rate plan EIU officials, AHS students know they don't have to worry about an increase in tuition during their four year experience. And since EIU is right here in Illinois, students can gain a good education without facing the prices of out of state universities. Maybe EIU is the college for you.
Newspaper Design - Zack Wagner, Huntley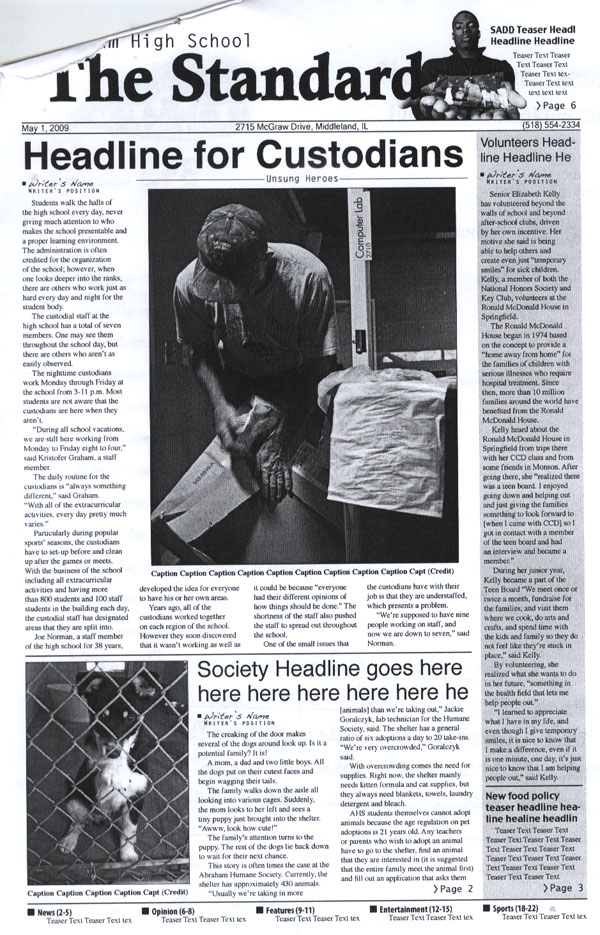 Review Writing - Corrine Chin, Glenview (Glenbrook South)
An undiscernable figure greets you at the door, peering out curiously with round beady eyes and a slice of nose, sniffing at you, almost as if to say "What are you doing here?"

This is the vibe that "Fields Afar," and African art exhibit at Eastern Illinois University's Tarble Arts Center, exudes. Filled with masks, pottery, jewelry, figurines and furniture from the year 1200 to the 20th century, the "art" seems more like a collection of artless artifacts.

Once past the strange figure at the door- "Family Reliquary Figure (Bwiti)" by the Mahongue people of Gabon- the warmly-lit exhibit is decidedly less remarkable. Everyday objects made by everyday people, including a "Blanket with embroidered designs" made by the Fulani people of Kumasi, Mali, adorn the sparse square of a room.

Objects as "everyday" as a "Man's Beer Pot," ceramic and mottled with presumed use, line the walls. You might have simply stepped into an African residence.

The artifacts are so unremarkable, in fact, that much of the artwork is undated and hardly any is given a title: three pedestaled pieces of wood are called "Male 'Rainbow' Stool," "Woman's Stool," and "Gunpowder Stool for male leader." These were made by different people- The Asante and Fanse people of Ghana- and span the length of a century- 1874 to 1980- but look very much the same, a crescent-cradle seat atop a block of carved wood.

Who made these pieces? You won't get much more than a tribe name. Why were they made- What makes these fully functional artifacts "art"?

There is no immediate answer to that question. Perhaps Martha J. Ehrlich, from whose private collection all these objects hail, could say much more. She received a PhD in Art History from Indiana University, and it seems like you'd need that degree to get any degree of meaning from this exhibit.

Even the masks in the center of the exhibit seem confused. The viewer is faced with three congruent faces, month's agape, eyes empty, string at something unspecified- big blank holes through which you can see, peering at images with no interpretation. These masks are like a mirror, showing the same lack of understanding a teenager might feel in the exhibit.

But the wood of the masks is speckled with human handling; their complexions are marred with matter. Sediment is engrained in their once-smooth skin, bearing the flaws of history, dirty and twisted.

The "Female Mask with Twisted Hair" stares silently into the next glass case. It houses figurines, small and straight and nearly identical. The dark wood reflects the light away and likewise deflects any other illumination into their existence.

These figures of men and women, although hailing from varied tribes such as the Asante, Baule and Fanse, are nearly indistinguishable. They possess the same height, posture, shape- they are clearly not representations of actual individuals; they appear to be simple projections of what the people- the artists- thought was "beautiful."

Indeed, all of the exhibits art seems to reflect that, with scrolling carving adorning the functional and now defunct pots and stools' winding around those precious places that human hands once touched (but that signs now scream at viewers not to do).

But without anything else to guide visitors, it reveals nothing more.

You can view the exhibit until June 7th in the Brainard Gallery of EIU's Tarble Arts Center, but don't expect the art to speak to you anymore than to say "What are you doing here?"
Sports Writing - Chris Yoder, Urbana (University)
It's been several years since AHS beat Breckinridge at swimming and diving. Last week, the boys were determined to work hard to change that.

As it turns out, that hard work paid off.

The Abraham boys opened their season on a high note, defeating Breckinridge by a single point in their 96-95 dual meet on Thursday.

Could it be the sign of a break through this season? For several years, all of Abrahams meets with Breckinridge have had the same result. Second at sectionals, second at Regional's, Second at State, all this despite winning the Suburban conference six years in a row.

Abraham's new coach may be a reason for their breakthrough. After former coach John Seagal retired last year after 15 years of coaching, Sarah Tsuchitani took over the head coach position. Tsuchitani isn't new to success herself, having won the NCAA Swimming and Diving Championships last year as a freestyler at the University of Arizona. And she knows how to get her swimmers to succeed.

"Coach takes her job seriously and is really dedicated to training us," said sophomore Jonathon Hsu. "Practices are a bit harder and longer than last year and everyone is stepping up their game and getting in shape. Her workouts are really effective, and she's pushing us to our full potential".

Yet being on the AHS swim team involves more than just hard work. There's also fun and games- literally. Every Thursday is past a dimes day at a team member's house. Team exclusive lock-in's are held annually at the school, where members play "sports" such as dodge ball and musical chairs. The loggers on the sideline loudly cheer on the loggers in the pool. Its just the culture of the swim team.

"The team is very close knit," said junior swimmer KJ Park, " I actually thing of it more of a family than team. The guys on the team have like a brotherhood bond between them and the girls are so supportive of each other. Everyone understands each other since we are all working towards the same goal." That goal perhaps, is to leapfrog Brackenridge to win the state title. Even though the girls dropped their half of Thursdays meet 130-61, it wasn't for lack of effort. And the guys beat Breckinridge for the first time in any of their logger careers.

"That in itself," said sophomore diver Alicia LeBesre, "is a huge success."
Yearbook Copy Writing - Meghan Sweet, Minooka
A hope for change theme covered the Sheraton hotel ballroom in red, white, and blue on April 17th when Abraham High School celebrated prom night. While making plans for what would be a memorable night, the junior class decided to mix up after-prom a little with a service project to give back to their community. They decided to cook breakfast for the homeless.

The idea for the service project came from the junior class president, Jonathon Markus. He did a little research and found that the number of homeless children in Illinois had skyrocketed and increased about 67 percent. Chicago alone has over 10,000 homeless children living on its streets.

It took two months of hard work just to raise enough money to pay for the food, an additional month of planning the menu and shopping for groceries. Deb Grossenbacker, head of AHS dining and supervisor for the event, and her committee of juniors- Patty Lamonte, Sherri Donner, and Melanie Weeps- chose the menu consisting of egg casseroles, hash browns, biscuits and gravy, juice, and coffee.

"I have never seen anything like this," said Grossenbacker. "The spirit in the school for the past three months has been infectious. Whoever said kids are apathetic has not met our kids. They made me cry."

Juniors Josh McMannis, Chase Waterford, and Ashley Whitfield made up another committee that organized the 47 volunteers who cooked, delivered, and served the food to the Middleland Homeless Shelter.

"We were exhausted cut it was worth everything we did to make it work," said junior Chase Waterford. After the dance and after-prom event about 150 students went home for a change of clothes before they returned to the high school. Principal Shannon Plantosky and 17 other staff and faculty members were there as well when the cafeteria opened at about 3 a.m.

With the help of some parents, everyone carpooled in vans and cars to the homeless shelter.

Principal Plantosky said, "The energy in this room was amazing. And the smells! The food was so good. I know the people who got to eat a hot breakfast were grateful, and it made a lot of difference to them. What a great night."

After they served about 200 people and cleaned up at the shelter, everyone went back to the school cafeteria. Grossenbacker and her staff served AHS students their own breakfast of cinnamon rolls, French toast, and sausage until 10 a.m.

"I am so tired," said junior Jonathon Markus, " but in a good way. I really feel like the class of 2010 did a great thing tonight that will be remembered. We all came together as a class to make a small difference in someone's life."
Yearbook Layout - Alicia Valtierra, Plainfield (Central)
Yearbook Theme Development - Iryna Khopta and Rachel Stinebring, Wheeling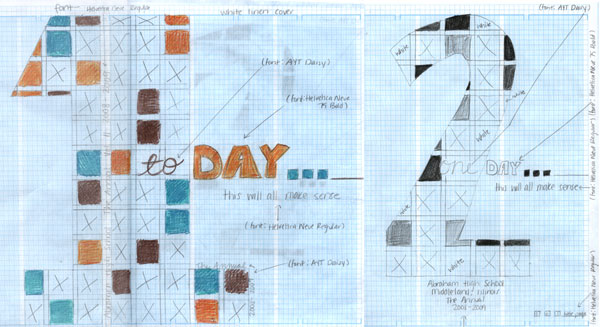 We decided to take the theme of "one day this will all make sense" to the next level by using the wordplay of the idea of one day/today. This word play not only shows the foreword thinking approach of the school and its students, but also focuses on the present work of students and staff to achieve their future goals. As a result the enhanced theme is "one day/today this will all make sense."

Cover: We incorporated design elements of lines, boxes, and compound path photos (stretching one photo over multiples boxes to create a complete image), which will be carried throughout the entire book. We made a bold "1", comprised of boxes and compound path pictures to drive home the numerical aspect of the title as well as the "One day" portion of the theme. Some boxes are colored with the school colors; others are compound path photos to show personalization, student involvement, and diversity on the cover. We also wrote "to" inside of the "1", next to the "day", to demonstrate our "one day/today" theme, contrasting the present and future. We also use three boxes later used as the folio and lines, which are used throughout the book. We also wanted a white, linen textured cover to make the book stand out.

Title Page: Contrasting the cover, the large "2" with the AYT Daisy "one" inside, highlights the "today" aspect of out theme again playing on the future verses present idea, the "today" becomes the focus. We used the same compound path and boxes technique used on the cover as well. Also incorporated in our design is a folio consisting of three boxes that mimics the ellipsis of the cover and title page, shoving foreword progress aspect of the theme.

Everywhere: The greatest difference from a traditional yearbook with ours is weekly coverage. Because of the numerical and time focused aspect of the theme, weekly coverage would document the foreword progress of the students. Also lending itself to a time – centerfold sectioning is our design of boxes that mimics a calendar. As a result, the book would be split into monthly sections (division pages) instead of categories such as sports, student life, etc. Because of this approach, coverage would begin with spring of the previous year carried throughout would be our design of boxes, compound paths, and lines. For a personal approach, we would add sidebars including personal narratives of a person's future goals and steps they are taking to achieve them today. This would highlight the "one day/today" aspect of our theme. Showing the progress of the year, the opening would start with "today" and the closing would also incorporation our foreword progress aspect of theme and wordplay.